Meet M-Edge's Customer Service Team
Questions?
Who we are...
Customer Service at M-Edge is made up of a dedicated team of seven, very helpful professionals. Although we are serious about helping our customers, we are a light-hearted and quirky bunch and like to have fun with what we do. Located between the warehouse and product development and not far from marketing and our CEO's office, we are involved in all aspects of the company to help ensure that our customers experience the very best that M-Edge has to offer.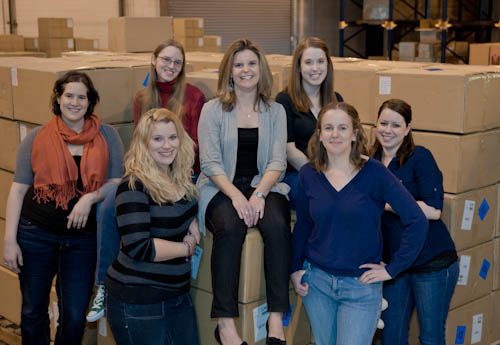 Above, in no particular order: Allison, Jackie, Kelly "Kapowski", Meghan, Sarah, Kelley and Aubrey.
What we do...
The CS Team acts as the voice of our customers, working with all the other departments to provide input about product and packaging design, helping to develop the product information on our website, troubleshooting the ordering process, assisting in testing and quality inspections of new products, helping to fill and ship orders, processing returns, and gathering customer feedback to relate to the rest of the company. We are a little geeky, pleasantly weird and extremely helpful. We love our company and the products that we make and want our customers to love them too!
A few of our happy customers...
"That is excellent service! M-Edge goes onto my Customer Service Roll Of Honour (along with Samsonite, Toshiba, Amazon, Zippo lighters and one or two others... about one entry every 5 years)." --Roger
"Your customer service is truly exceptional and a breath of fresh air. Thank you for your prompt communication and follow-up." --Ron
"Thank you so much for your help! I received my booklight and it works great! Your wonderful service will be known to all my friends and family and I will definitely continue to recommend and use your products! Again, thank you so much!" --Susan
"Your service cannot be any better....in this day and age of shabby customer service, you as a representative of M-Edge are a bright light and should be commended for your service. If M-Edge stays committed to customer service, the future of the company is very bright. I know that I will commend M-Edge to anyone looking for covers to e-reader and/or tablets to check out M-Edge before they look anywhere else." --Dan
"Yay M-Edge! Yay Customer Service! Yay Me!" --Jason